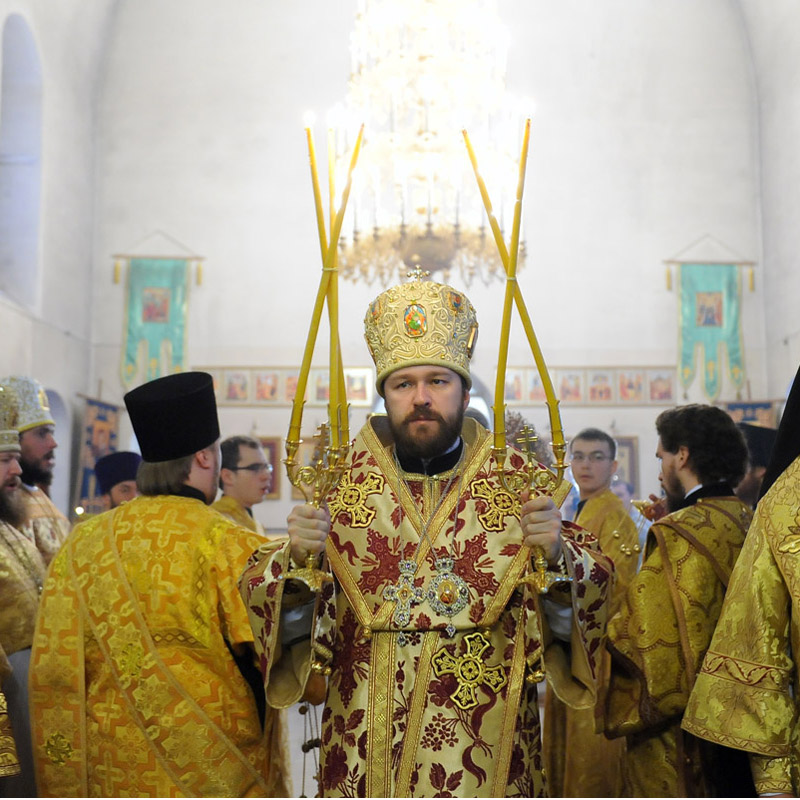 On December 15, 2010, the rector of the Ss Cyril and Methodius Institute of Post-Graduate Studies (CMI), the Russian Orthodox Church's post-graduate and doctoral school, celebrated the Divine Liturgy in the church of the Beheading of St. John the Baptist at the Patriarchal Metochion of the Wonder-workers of Chernigov.
Among his concelebrants were bishops from Ukraine and Belarus, CMI faculty and postgraduates and doctoral candidates in holy orders and clergy of the Chernigov Metochion.
In his address to the congregation after the service, Metropolitan Hilarion welcomed everybody to the church dedicated St. John the Baptist, which has been authorized by Patriarch Kirill of Moscow and All Russia to become the Institute's own church. As the church still needs restoration and its territory a face-lift, Metropolitan Hilarion asked the faculty and students to endure with patience the inconveniences caused by the repair and restoration work. 
Metropolitan Hilarion also spoke about the task of the Institute to create an educational institution of a new type, which would preserve the best traditions of Russian theological scholarship while naturally fitting in the educational process taking place today in European countries. 'We must create an educational institution consonant with both the national education standards and the European standards described in the so-called Bologna Document on which the whole European education system is rebuilt today'. 
He stressed the need for the Institute to develop in its students creative thinking, independence in academic work and critical reflection on academic material. 
He also pointed to the multi-national nature of the multi-million Russian Church which lives in continuously developing and changing situation in various countries with their own political and economic specifics. The Russian Church should not be seen as a certain product of foreign influence but should be the flesh of flesh of the people and land in which she lives and serves. 
Speaking about the students' studies, Metropolitan Hilarion said, 'Not only you personally need the training; the Church needs it because the Church today as never before needs educated clergy, people capable of giving account of their hope to all who ask them questions… And we must be able to explain to people what we believe in and why we believe so, doing it not from books but from our own experience. To be able to give these answers to people we should be well versed in our spiritual and theological tradition and be well aware of the challenges faced by each Orthodox Christian and our whole Church'. 
In conclusion, His Eminence said, 'I wish all of us that our theological institute may become a breeding-ground of true Christian education in the sense that Ss Cyril and Methodius, our patron-saints, understood it… And today, following the Thessaloniki brothers, we should teach people see our Orthodox faith not only as the legacy of our ancestors or a certain cultural phenomenon, but, in the first place, as the way, the truth and the life (Jn. 14:6).'