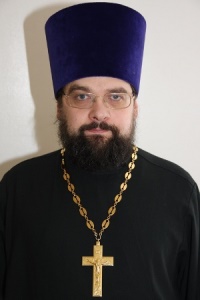 Head of the interreligious contacts section of the Moscow Patriarchate Department for External Church Relations (DECR)
Candidate of History (2004)
Candidate of Theology (2010)
E-mail: This email address is being protected from spambots. You need JavaScript enabled to view it.
Education:
History and Archives Institute of the Russian State University for the Humanities (RSUH) (1996)
RSUH postgraduate course (2000)
2003-2004 – academic internship in the Russian Presidential Academy of Public Service (Chair of Public-Confessional Relations)
Moscow Theological Seminary (2006)
Moscow Theological Academy (2007)
Professional work:
1988-2001 – teacher at the St. Seraphim of Sarov Orthodox Lyceum, Moscow
1999-2001 – lecturer at the St. Nicholas of Ugresh Seminary
Since 2000 – lecturer at the Sretensky Seminary
2001-2002 – editor, News Agency of the Russian Orthodox Church
2002 - staff member of the Church Academic Center "Orthodox Encyclopaedia"
Since 2003 – lecturer at Moscow Theological Seminary and Academy
Since 2004 – lecturer at the Higher Theological Courses for Laity under Moscow Theological Academy
2010-2012 – leader of the Russian Humanitarian Research Foundation's project "The Russian Orthodox Church and the Holy Land in 1917-1970".
Since 2010 – lecturer at the Ss Cyril and Methodius Institute of Post-Graduate Studies (CMI)
2010-2012 – staff members of the DECR secretariat for the far abroad
Since 2013 – head of the DECR section for interreligious contacts
Since 2015 – deputy head of the CMI Chair of External Church Relations
Academic interests and the sphere of academic work:
History of the 20th century Russian Orthodox Church, religious studies, studies of sources, interreligious dialogue, Oriental studies, archives management.
Academic publications:
Author of 76 academic articles on church history and religious studies.